My Cocktail Cabinet Renovation
A very quick and dirty web page to show my renovated Aussie/Japanese/UK style cocktail cabinet.



I've just about finished a complete renovation of an original Aussie/Japanese/UK style Cocktail Cabinet. It was a Jatre Spectar (Space Invaders Clone) cabinet, originally built in Japan.
I bought it off eBay in Australia in a terrible state; water damaged, cast aluminium leg broken in transit, very dirty, lots of parts missing and definitely not working!
I was going to try and get it working with the original hardware, but quickly discounted this option. I ended up striped the whole thing to bits and reusing what I could, which really amounted to the wooden housing, the monitor mounting brackets, the Joysticks (new micro-switches), various cosmetic parts and hinges, brackets, etc.
When renovating, my goal was to keep the original look and feel of the original 'Invaders cabinet as much as I could.
As a part of the damaged leg went missing on the back of a transportion truck somewhere in Australia, my father-in-Law, who has a metal work shop, made new legs using tubular steel.
I striped away all the vinyl from the outside of the housing (it was water damaged and mouldy), and got rid of all the residual vinyl glue from the wood (really nice job that!). I then removed all the damaged bits of wood, filled and sanded back.
As there was very limited space inside the cabinet, I had to forget a coin box (it was missing anyway!) and I use a router to fit a 120mm extraction fan where the coin box used to be.
I then painted the whole thing inside and out with back enamel paint.
The coin mechanism was there, but not working. I wanted to keep the original exterior look of the coin slot, so I removed the inside parts of the mechanism and made up a couple of electrical contacts on the back of the coin eject button. The exterior look of the cabinet is therefore largely retained, but you get credits by pressing the coin reject button. Kind of 'round the wrong way I know!, but this saved me a lot of space and works really nicely.
I used a 14" PC moniotor, a P166, DOS, Vantage and an I-PAC keyboard Emulator. It boots from cold into the ROM in about 10 seconds and you can switch off without the W$ shutdown process.
A new glass top was a must, the old one was more scratches than glass!




Cabinet before renovation. Yes, thats mould on the black vinyl, not some fancy marble effect!



Inside cabinet before renovation.



Gutted cabinet, cleaned, sanded and apinted, new legs and hole for 120mm fan where cion box used to be.



Top section on. Joysticks and buttons in. HDD, MOBO, fan and
Power Supply in place.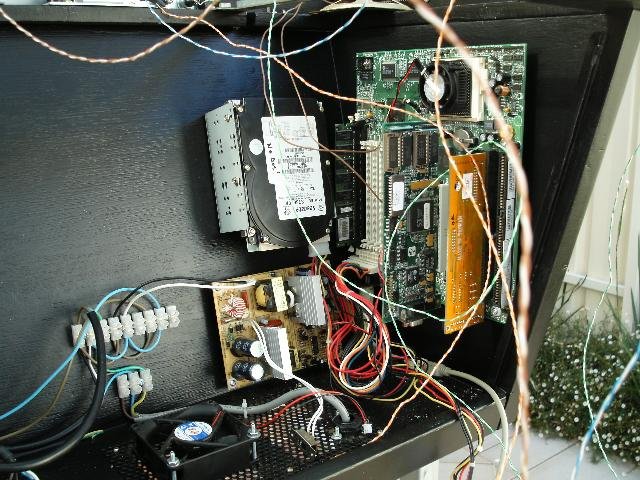 Closer view of above.



Wiring complete



Completed cabinet with lid up.



Closer view.



Door open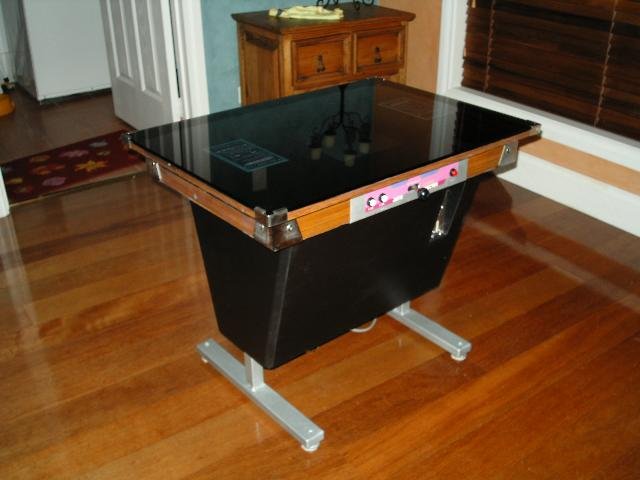 Complete


Working